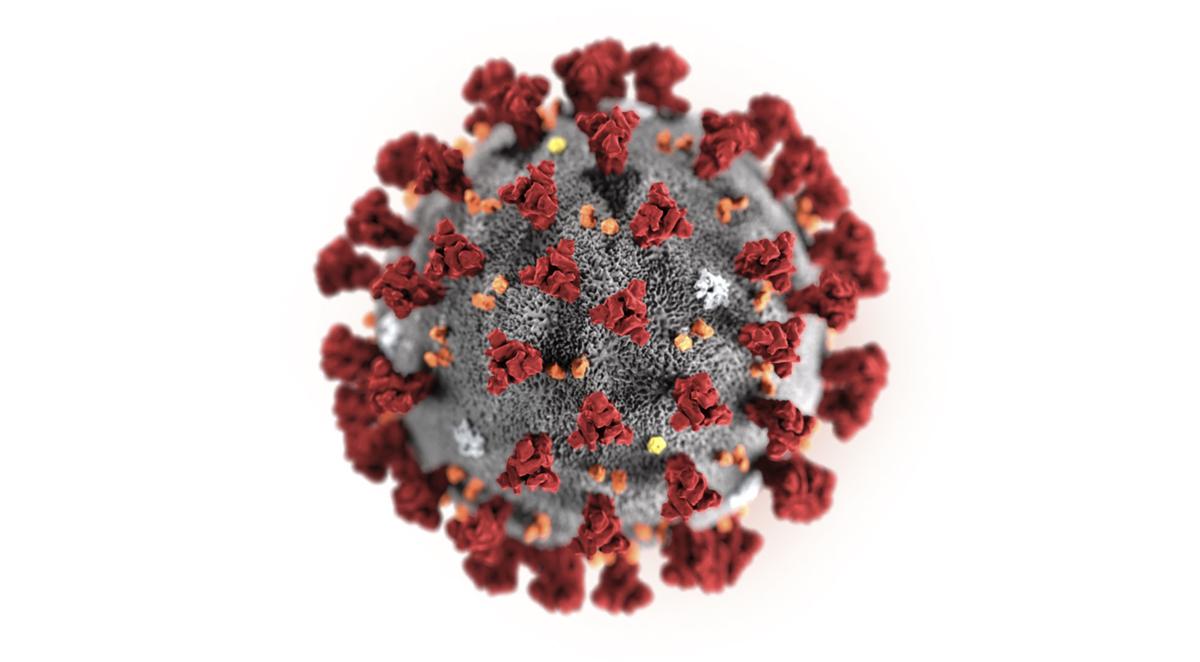 This illustration provided by the Centers for Disease Control and Prevention in January 2020 shows the 2019 Novel Coronavirus (2019-nCoV). This virus was identified as the cause of an outbreak of respiratory illness first detected in Wuhan, China.
CARBONDALE — On Monday, Chicago Department of Public Health and the Illinois Department of Public Health announced four new cases of COVID-19, caused by a novel coronavirus that has been spreading in several countries after first appearing late last year.
Their news release said the new cases are all in isolation and are in good condition.
According to the IDPH website, coronaviruses are a large family of viruses, including some that cause illnesses in people and others that circulate among animals. Human coronaviruses are common throughout the world and usually cause mild to moderate illness, similar to a cold or influenza. However, when new coronaviruses emerge, such as SARS and MERS, they have been associated with more severe respiratory illness.
To help stop the spread of COVID-19, Carrie Eldridge of Franklin-Williamson Bi-County Health Department is recommending the same precautions used to prevent influenza from spreading.
"We're telling those who are hearing a lot of different things in the media to wash their hands for at least 20 seconds, cover their mouths when they cough or sneeze, and of course, stay home if you are sick," Eldridge said.
She added that people who are using a hand sanitizer should make sure it is alcohol-based. She stressed that those using hand sanitizers still need to wash their hands as soon as it is convenient.
Anyone with coronavirus symptoms, such as a cough, shortness of breath or runny nose, should call his or her health care provider to determine their next steps. Most people will be able to stay home and take medication to control the symptoms. People who are older or considered more at risk may need to be tested.
"Younger people have stronger immune systems. What we are seeing is coronavirus is harder on the elderly population. They might have a harder time fighting off the virus," Eldridge said.
The Centers for Disease Control and Prevention say those who are higher risk of getting very sick from COVID-19 are older adults and people who have serious chronic medical conditions, such as heart disease, diabetes and lung disease.
The CDC recommends planning now for a potential outbreak that keeps them at home for a prolonged period. Keep extra prescription medication on hand, be sure to have over-the-counter medicines and medical supplies, such as tissue, to treat fever and other symptoms, and have enough household items and groceries to stay home for a period of time.
Southern Illinois Healthcare also recommends cleaning all high-touch surfaces every day. Those include counters, tabletops, doorknobs, bathroom fixtures, phones, keyboards, tablets, remote controls and bedside tables.
While there are not any COVID-19 cases at Southern Illinois facilities, Southern Illinois Healthcare and Heartland Regional Medical Center are taking extra precautions and planning for an outbreak. The organizations have reviewed their isolation procedures and are updating them to reflect the latest coronavirus information. 
Heartland has conducted simulation exercises to practice implementing the hospital's infectious disease protocols. They also are monitoring information from the CDC and IDPH and meeting regularly to discuss protocols for isolation, according to a statement from a Heartland spokesman.
Southern Illinois Healthcare infectious disease and infection prevention specialists and emergency preparedness personnel continue to collaborate with local, state and federal officials regarding COVID-19, according to a statement on its website. They are preparing for a surge in ER visits, should the number of people infected rise. 
SIH officials said planning for this type of event is not new, and they will continue the ongoing work of providing care for patients with COVID-19 and other viruses and keeping staff at their hospitals safe. 
"This is general information. Follow those simple, easy rules of thumb for prevention the flu, and call your healthcare providers with any concerns," Eldridge said.