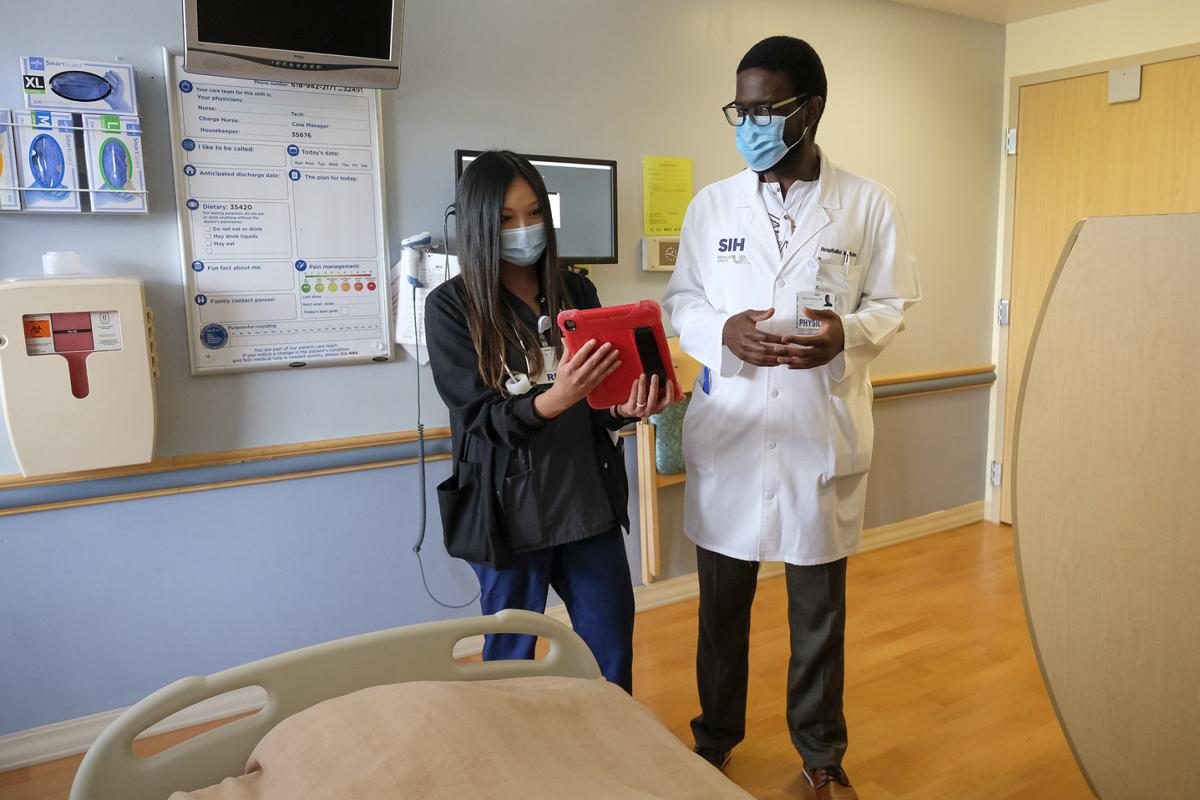 When Illinois Department of Public Health instituted new rules for hospitals in mid-March, part of the way they recommended slowing the spread of COVID-19 was limiting visitors to the hospital. Southern Illinois Healthcare quickly acted to limit visitors and family members accompanying patients, with a few exceptions.
Over the next few months, patients and their families consistently complained about lack of access and information, even though nurses made calls to update family members.
Diane Honn, the new family connection coordinator for SIH, said not having family nearby made it a little harder for hospital staff, too. Besides doing things like helping a patient eat or go to the restroom, family members notice slight changes in personality that can indicate a problem.
With a problem to solve, SIH officials called in Kris Sherrill, a continuous improvement specialist at SIH. Sherrill's job is to walk through a problem and figure out a way to make it better.
"One of our mantras is 'better, not perfect.' I think I have the coolest job at SIH," Sherrill said.
She does not work alone, instead creating a team to take action. Sherrill might be working with staff at the Cancer Center one day and cleaning services the next.
Sherrill led a kaizen team to look at the question: How can we make this better for our patients? Kaizen is a Japanese term that means change for the better or continuous improvement. The kaizen team met for a day and came up with several ways to help connect patients and families.
One answer was simple. Patients often bring their cellphones to the hospital, but sometimes forget a charger. SIH purchased chargers to fit a variety of cellphones.
Other solutions required more work. One of those was creating Honn's position. Family connection coordinator is a new position that is designed to help the patient and his or her family stay connected.
Honn had been furloughed and was able to return to work in the new position. Her duties include talking to patients and learning how they prefer to communicate. She can use an iPad to facilitate face-to-face interactions.
"I have loved ones at high risk for the virus, so I can really relate to the void in social interactions," Honn said.
Patients and family have been overwhelmingly positive about the new position, according to Honn. They understand the need for restrictions and want to keep their loved ones safe, but also need to stay connected.
"The hospital is stressful under normal circumstances, and now to be separated from those closest to you. This role helps fill that void," Honn said.
Another way to connect families to patients was to institute virtual trio rounding. Someone in a patient's family often waits at the hospital for the doctor to come into the patient's room. With the COVID rules, no one can be there when the doctor makes that visit. The solution is putting an iPad into the hands of doctors and nurses while they make rounds in the hospital. They call the family's loved one, who then is present on the iPad.
This is Week 4 of the pilot program introducing virtual trio rounding. The program is being used on the medical-surgical unit at St. Joseph Memorial Hospital in Murphysboro and the medical-stroke unit at Herrin Hospital.
Billie Jo McDicken, nurse manager in the medical-stroke unit at Herrin Hospital, said they are one of the hospitals implementing the new trio rounding at in her unit. They are including family members in rounds by using Facetime, Google Duo or a phone call. It allows a family member to have input on the plan of care, note any changes they see and to just lay eyes on their loved one.
McDicken said the family of one nonverbal patient was very anxious. The family lived in New Hampshire and the patient was in a Southern Illinois hospital. They were able to connect through the hospital's iPad.
"It was a huge relief for them to lay eyes on her for the first time in months," McDicken said.
She said staff have been wonderful to work with. They are trying to put themselves in the shoes of the patients' loved ones, she said.
SIH Chief Nursing Officer Jennifer Harre said patients are in the hospital because they are sick. Sick patients can lack the ability to make critical decisions about health care. It is important to be able to connect with family to help with those decisions. Also, research shows that patients recover quicker when they have a support system.
"The team that looked at this, they did a fabulous job," Harre said.
SIH will ease limitations on visitors beginning Tuesday, June 23.
Adult inpatients who are not suspected of COVID-19 will be allowed one visitor at a time from 11 a.m. to 7 p.m. One support person may accompany patients undergoing surgery for the duration of the procedure. COVID-19 patients may now receive visitors in end-of-life situations.
All visitors will undergo temperature and illness screenings, and will be required to wear masks and exhibit good hand hygiene. In addition, they will be asked to remain in the patient's room or designated surgery waiting area throughout the length of their visit. Family members under the age of 18 are asked not to visit at this time. Other considerations are made on a case-by-case basis when essential to ensure the emotional health and well-being of the patient.
Harre says they will still be able to use the skills they've learned to connect with families.
For more information, visit sih.net.
Sign up now to get the most recent coronavirus headlines and other important local and national news sent to your email inbox daily.